Custom Shade provides and installs a wide selection of decorative films in the Springfield, MO area.
Glass graphics in Springfield, Missouri
Peek into the bevy of glass graphic services available at Custom Shade Window Tinting & Glass Graphics.
Highlights of glass graphic services:
Custom designs on glass Springfield, Missouri
Printing on glass films in Springfield, Missouri
Plotting on window films Springfield, Missouri
Cutting signs, logos, and more
We cut your logo or any pattern out of many materials, including but not limited to:
Glass printing in Springfield, Missouri
Make the glass in your office or storefront so unique that your customers remember you for years to come. We print any type of graphic on clear or frosted window films, including:
Images
Logos
Artwork
Patterns
Custom Shade moreover offers white ink and color printing – in varying opacities – on glass films.
3M Fasara design films
Transform plain glass into extraordinary works of art. 3M offers several patterns and shade transparency levels to give your office or home a custom look.
Not just for windows and doors – use on furniture, too
Add the 3M Fasara decorative film to a glass table and turn it into a conversation piece.
Elevate privacy – and security – for homes and businesses in Springfield, Missouri
Can people at your front door see inside your home as they wait for you to answer the door?
3M decorative window films provide different levels of privacy to occupants in homes and office buildings. Request an in-home consultation from our decorative glass installers in Springfield, Missouri.
Solar graphics colored films
Custom Shade is the only Solar Graphics window film dealer in Springfield, MO.
Solar Graphics features a dazzling display of color options. There are more than 40 hues to choose from. Plus, these can be layered to create unlimited color options.
Top applications for solar graphics
Solar Graphics is great for designing custom glass graphics on storefronts. However, their applications aren't limited to storefronts alone. Use for schools, churches, and other places of business to showcase your brand or cause.
Why colored films?
Colored films have a richness that no other material can duplicate. The most appealing part of using tinted and transparent window films for graphics is that you don't lose any visibility from the inside looking out.
Decorative Films
Solyx® glasslike distortion window films
Solyx offers hundreds of patterned, textured, and gradient films, including stained glass window films.
SimGlas® window films
SimGlas Finishes, which are manufactured by SOLYX, give your glasses a very cool antique look using different textures of clear finishes.
Head-turning styles
Combine patterned with textured films on one window pane to create a one-of-a-kind design.
Custom Shades – a clear advantage
For meticulous applications of decorative glass and window films, turn to Custom Shade Window Tinting & Glass Graphics. We are always thorough, professional, and reliable – and guarantee your 100% satisfaction.
Questions?
If you would a quote, give us a call at 417-823-8715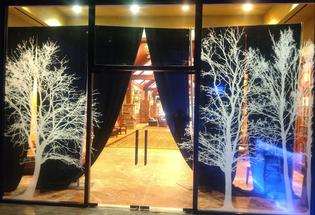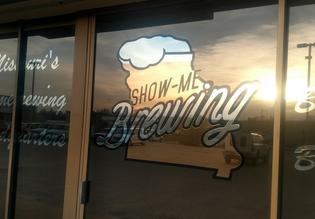 Custom Shade is Very Honored to be a part of helping recreate the skylights for the Boone and Crockett National Collection of Heads and Horns displayed at Wonders of Wildlife in Springfield, MO.