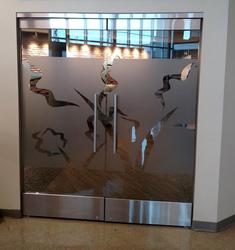 Locally owned and operated right here in Springfield, MO, Custom Shade Window Tinting uses the expertise gained from 20 years in the business and over 15 years in Southwest Missouri. Bringing you the highest quality window tinting services in Springfield, MO possible for your Home, Commercial Space, or Car. We are dedicated to making sure our work is quality and up to your standards.
All work is guaranteed and we are fully insured. If you want professional results at a reasonable price, contact us for a free estimate.
Custom Shade markets and installs incredibly strong window films that are designed and made to prevent glass from shattering. This product is maintenance free and highly scratch resistant, helping preserve the structural integrity of the window. In the unlikely event that the window does shatter, our film will hold all the particles of the widow and keep them from flying, further preventing injury.
​
Window film is essentially undetected by the human eye but has numerous benefits. Some of these benefits include:
Resistant to strong winds and airborne debris caused by straight-line winds.
Rejects 98% of UV radiation to help prevent fading and stains.
Provides an invisible line of defense to smash and grab thieves and intruders.
Helps protect you from flying broken glass fragments
Call us today for a free estimate on our services at (417) 823-8715.